Welcome to the Black Swan Wiki
Black Swan is a 2010 American psychological thriller-horror film, starring Natalie Portman, Vincent Cassel, Mila Kunis and Winona Ryder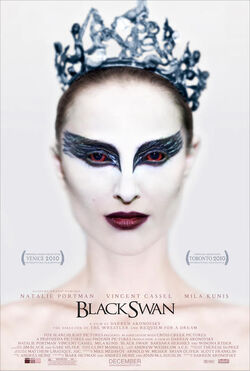 Nina Sayers (Natalie Portman) is a young, innocent, highly devoted, anorexic ballerina, who lives, breathes, and dreams of ballet. Under the pressure of her doting, overly-coddling former ballerina mother (Barbara Hershey), Nina strives for perfection at all costs.
This new season, the ballet company Nina has worked for for several years is on the verge of shutting down, but the well-known yet infamous director, Thomas Leroy (Vincent Cassel) is determined to keep his fine ballet studio running; intending to open and save the season with his new version of Swan Lake.
When veteran/Prima ballerina, Beth MacIntyre (Winona Ryder) is announced to be retiring (though not by her own choice), her starring role is up for grabs, Nina encounters the opportunity of a lifetime; to dance the Swan Queen: Odette-The White Swan and Odile-The Black Swan (two roles portrayed by one dancer, as is the tradition).
Loading RSS data...